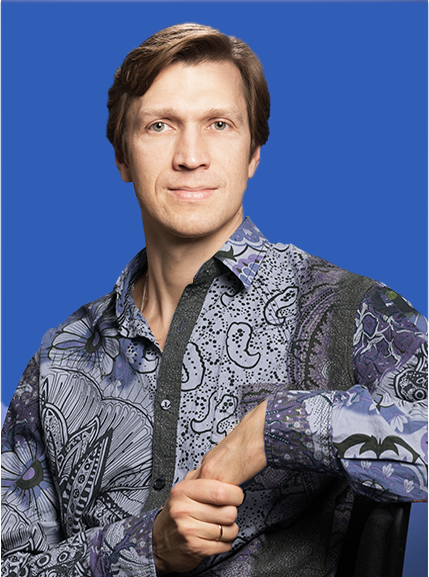 Ballet Teacher, Choreographer
Stanislav Belyaevsky was born in Leningrad. At the age of ten, he was admitted to the famed Vaganova Academy. He studied intensively for nine years with the renowned ballet-master Vladilen Semenov. Under his tutelage, Stanislav made his debut in «Chopiniana» («La Sylphides») and Albrecht in «Giselle» while at the Vaganova Academy. He accompanied the Vaganova Academy in its international tours to the USA, France, Germany, Holland, Iceland, and Israel.
Upon graduating in 1991, he joined the ranks of the world-renowned Kirov Ballet (Mariinsky Theatre) as a company member. In his first season with the Kirov Ballet, he danced the lead of Albrecht in «Giselle». Further, he performed all the major roles in the company's classical repertoire, including  Siegfried in «Swan Lake»,  Desire in «The Sleeping Beauty», the Prince in «Nutcracker», «Chopiniana»,  «Le Spectre de la Rose», Vaslav in «The Fountain of Bakhchisarai» and Colin in «La Fille Mal Gardee». Stanislav danced in Balanchine's «Symphony in C» and in Boris Eifman's «Cognition». He has partnered many of the world's most renowned ballerinas, including Altynai Asylmuratova, Zhanna Ayupova, Yulia Makhalina, and Ulyana Lopatkina.
In 1994 Mr. Vinogradov cast Mr. Belyaevsky as the lead in the premiere of his new «Cinderella», partnering with the charming Zhanna Ayupova. He went on to dance many other signature roles choreographed by Mr. Vinogradov and has appeared in films about Kschessinskaya and about the ballet «Cinderella».
In 1997 Mr. Belyaevsky was invited to join the State Ballet Berlin. There he began working with such acclaimed balletmasters as Patrice Bart of the Paris Opera Ballet. David Saterland cast him as the young King Heinrich in his «The History of Pygmalion and Don Juan». During his time Stanislav performed many contemporary works. He worked with the renowned dancer and great teacher Oliver Matz.
In 2000, Mr. Belyaevsky was invited by Jorma Uotinen to join the Finnish National Ballet as a principal dancer. While there he was able to expand his roster of leading roles to include dancing Lensky in «Onegin» by J.Cranko, Oberon in «A Midsummer Night's Dream» by H.Spoerli, Albrecht in S. Guillem's «Giselle»,  Desire in R. Nureyev's «Sleeping Beauty'», G. Balanchine's «Violin Concerto» and «Serenade»,  Basil in «Don Quixote»,  and the Prince in B. Stevenson's «Cinderella». He had the privilege of performing in «Raymonda» choreographed by Anna-Marie Holmes and Kevin McKenzie for the Finnish National Ballet.
In 2002 he was invited to dance the role of Siegfried in South Korea in Universal Ballet Company's production of «Swan Lake». After an impressive performance, he went on to dance Romeo in the world premiere of O. Vinogradov's «Romeo and Juliet» later in 2002.  Mr. Belyaevsky has also appeared as a guest artist with the Korean National Ballet and the International Ballet Star's Gala in Seoul, Korea.
His creativity won him the «Pro Dance Award» in Finland.
Further Mr. Belyaevsky danced the leading role in Patrice Bart's new ballet «Tchaikovsky». He performed «Tarantella» at the Balanchine International Gala in Helsinki celebrating George Balanchine's 100th birthday. Mr. Belyaevsky explored new styles dancing the lead in A. Bouronville's «Napoli» and a contemporary duet in Jiri Kylian's «Petit Mort».
Mr. Belyaevsky continued to expand his dance horizons by dancing in G. Balanchine's ballet «Prodigal Son» as well as a challenging solo in H. Lander's «Etudes», «Four Hands» by L. Berdo, G. Balanchine's «Divertimento 15»,  «A Million Kisses to My Skin» by D. Dawson. Dramatical roles of Trigorin in J. Neumeier's «The Seagull» and Vronsky in A. Ratmansky's «Anna Karenina», the role of Tybalt in J. Cranko's «Romeo and Julia» and role of Von Rothbart in Kenneth Greve's staging of «Swan Lake» as well as many roles in K. Greve's «Scheherazade».
While performing, Mr. Belyaevsky also graduated from the pedagogical faculty of the Vaganova Ballet Academy where he obtained a Bachelor of Arts degree in Ballet Pedagogy. He began teaching and coaching at the Finnish National Ballet School, at the Helsinki Dance Institute and at Canada's Royal Winnipeg Ballet School. Mr. Belyaevsky worked with the Kirov Academy of Ballet of Washington DC as Assistant Artistic Director for the season 2017-2018. While working with these organizations, Mr. Belyaevsky trained many professional ballet students and enriched the repertoire of these professional ballet schools with ballets from the classical heritage.
Mr. Belyaevsky works as a guest choreographer and teacher at international ballet festivals in  Europe, Japan, Panama, Brazil, and many other countries. Both European and American International Ballet competitions invite Mr. Belyaevsky to be a member of their juries.
Mr. Belyaevsky has studied a unique dance notation method and become a professional choreographer and valuable expert who can set ballets from the Classical Heritage using the notations of dances from The Theatre Collection of Harvard University. One of the first performances was Marius Petipa's 1900 ballet "Les Ruses D'Amour", the choreography of which has been lost. Stanislav presented his choreographic version of this performance, based on the survived notations. The premiere took place on the stage of the Hermitage Theater in St. Petersburg (video of the premiere can be viewed on this website).