Paquita (1847)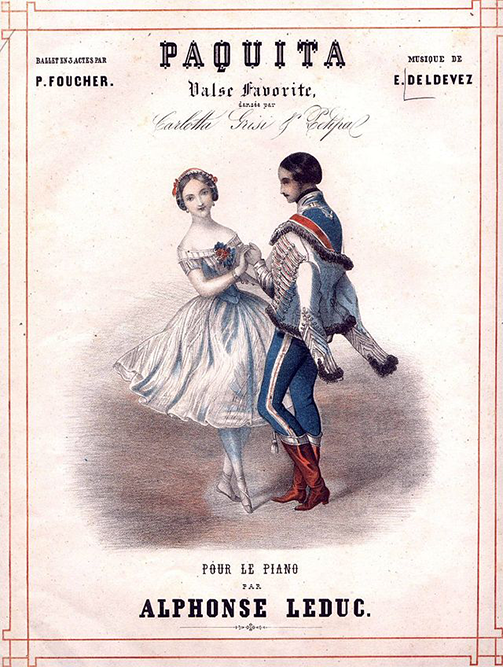 First performed on 26 September 1847
Grand ballet in three acts
Music by Éduard Deldevez
Libretto by Paul-Henri Fourcher and Joseph Mazilier
Choreography by Pierre-Fédéric Maloverne and Marius Petipa
on the basis of Mazilier's ballet
The Count d'Hervilly arrives in a valley near Zaragoza, where a band of Gypsies are comping. this was the area where his brother had lived when he was killed together with his wife and daughter.
In the encampment is the beautiful Paquita, whose presence from an early age among the Gypsies is shrouded in some terrible secret. Meamwhile, the governor of the province is seeking to marry his daughter off to the Count's son, Lucien, and Inigo, the head of the Gypsy band, is weaving his own intrigues, seeking to gain Paquita's affections. He soon notices, however, that tender feelings are arising between Lucien and Paquita.
Paquita saves Lucien when Inigo and the governor conspire to kill him and a medallion that she has carefully guarded since childhood turns out to contain a portrait of her father, who the brother of Count d'Hervilly.