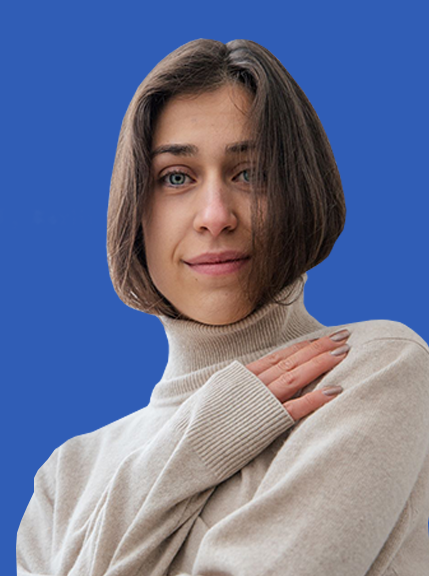 Contemporary Dance Teacher/ Choreographer
"I love all forms of dance, says Katerina. Dance is one of the best ways to connect with our bodies, minds, and souls."
Katerina Torp began her ballet training in Finland with the Ballet School of the Finnish National Opera and continued it in Moscow at the Moscow State Academy of Choreography. During her education, she was introduced to various styles of classical and modern ballet, as well as to important framing subjects such as anatomy, body conditioning, and improvisation. The school in Helsinki introduced her to diverse ways of moving and her interest in choreography grew into action already during her final years of studies in the form of choreographies made for her fellow students. Her choreography "Light" (2015) was performed at the Kuopio Dance festival as well as in gala performance at the National Opera House. Education at the Moscow State Academy of Choreography (Bolshoi Ballet Academy) was strongly based on the tradition of the Russian classical dance and it introduced her to new dimensions of the art of ballet.
During two seasons at the Romanian National Opera in Cluj-Napoca (Romania), Katerina enjoyed dancing in many classical ballets such as Swan Lake, Nutcracker, Don Quixote and Giselle. Having her unique imagination of movement, she marvelously danced featured parts in numerous modern and neoclassical ballets including Faun (B. Nebyla), City Beat (P. Rotaru), and The Young Man and The Death (O. Popa). She has performed in several International galas and was a member of a jury at the international ballet competition Attitude 2018 in Romania.
In Finland, Katerina continues to collaborate with Finnish National Ballet School creating new pieces for the students. Her new choreography was successfully performed by the students of the vocational education at the Finnish National Ballet competition in 2020.
In addition to classical disciplines, Katerina practices such styles as Gaga, Forsythe, Graham, and Galili.
"Love towards choreography as well as towards dancing body and mind has grown powerful in me, – says Katerina. Curiosity is what drives me. I get excited about people, interactions, intentions, and emotions. In my classes, I am not a professor but rather a student like all others. I introduce ideas, which are available for all. Ideas that arise from this world and are then shaped by everyone's unique imaginations. I encourage everyone to dance fearlessly like kids in a disco. Fearlessly of mistakes, doubts, or opinions. To give in to an adventure of the body and mind."