17.08.2022
Registration is open for LETO BALETA 2023 Summer Ballet Camp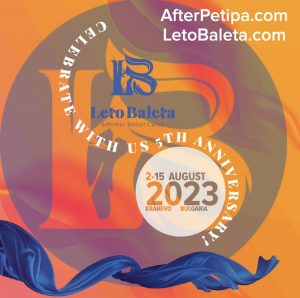 2-15 August 2023
AquaLife, Kranevo, Bulgaria
The best way to get back in shape for the new school year is to finish your summer by the sea with intensive training under the guidance of experienced coaches!
• 13 nights in a comfortable hotel of sport centre Aqua Life: 3 meals a day, swimming pool, access to the Black sea beach.
• 12 days of intensive training with experienced international teachers.
The participants are divided into 2 age groups: 12 – 15 years old, and 16 +.
• The workshop includes classical ballet, pointe technique, men's technique, variations, classical repertoire, character dance, acting classes, floor barre, stretching up to 5 1/2 hours a day.
• The course will end with a Final Gala-Concert with all participants on the open-air stage.
Let's get together to learn a new repertoire, to improve your technique, to perform, and meet new friends from all over the world!
On-demand:
Individual coaching in the afternoon.
Professional ballet photo-session with Stanislav Belyaevsky
Instagram: @summerballetcamp
Facebook: summerballetcamp
Information in Bulgarian: letobaleta.com